In our 'LOCKDOWN LEISURES' series we would like you to meet our team and our family. A few notes around the people behind and around our stores and community. What are they doing at the moment?
Meet Niels (@cielsnuivers) who has been working the longest for our stores. A few years ago you could've spotted him at our Lockwood store every day, but nowadays he's working in our office for most of the time. Officially he's the office manager, but everyone knows he does more than the title would tell. Niels has been skating for decades and loves some OG kicks. During the Lockdown he tunes the garden of his new house and celebrates the weekend together with his wife with some drinks and music...if she's not working in the hospital helping out on the Covid-section! Respect!
Scroll down below to find out what Niels has been up to lately.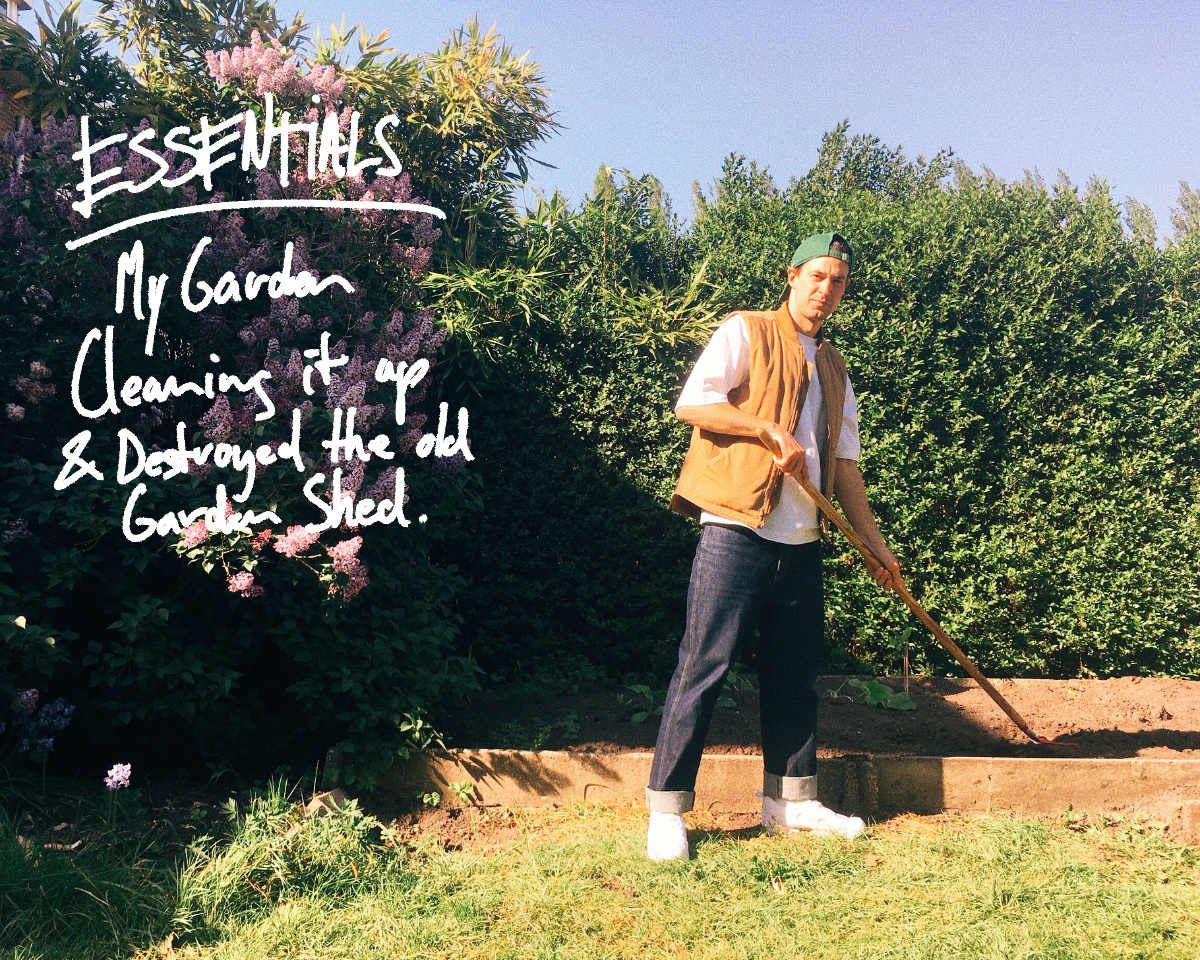 Lockdown essentials:
Bike: I need to get out of the city once in a while. Jump on the bike and ride for a few hours to get the feeling you are out of this misery!
Music: On the weekends we try to pump up the volume and add a couple of drinks. I usually end up on my crappy dj installation and try to mix things up. Until my wife falls asleep that's when things get ugly... It feels good to have a kind of weekend vibe but it still feels weird you can not really celebrate.
My garden: I have been cleaning up a bit and destroyed our garden house and I have also been experimenting with planting my first vegetables. Yay I am getting old.
The wife: I do not see her that often these days since she is doing night shifts helping in the hospital taking care of Covid19 victims so I couldn't be more proud of her. Having the company of each other is one of the greatest things you can have in these bitter times.
Skateboard: feeling a bit ashamed that I have not skated since all this s*** started. I was working on my big comeback... But I guess it just isn't the same without the homies.
Home exercise: Training for that six pack 2022.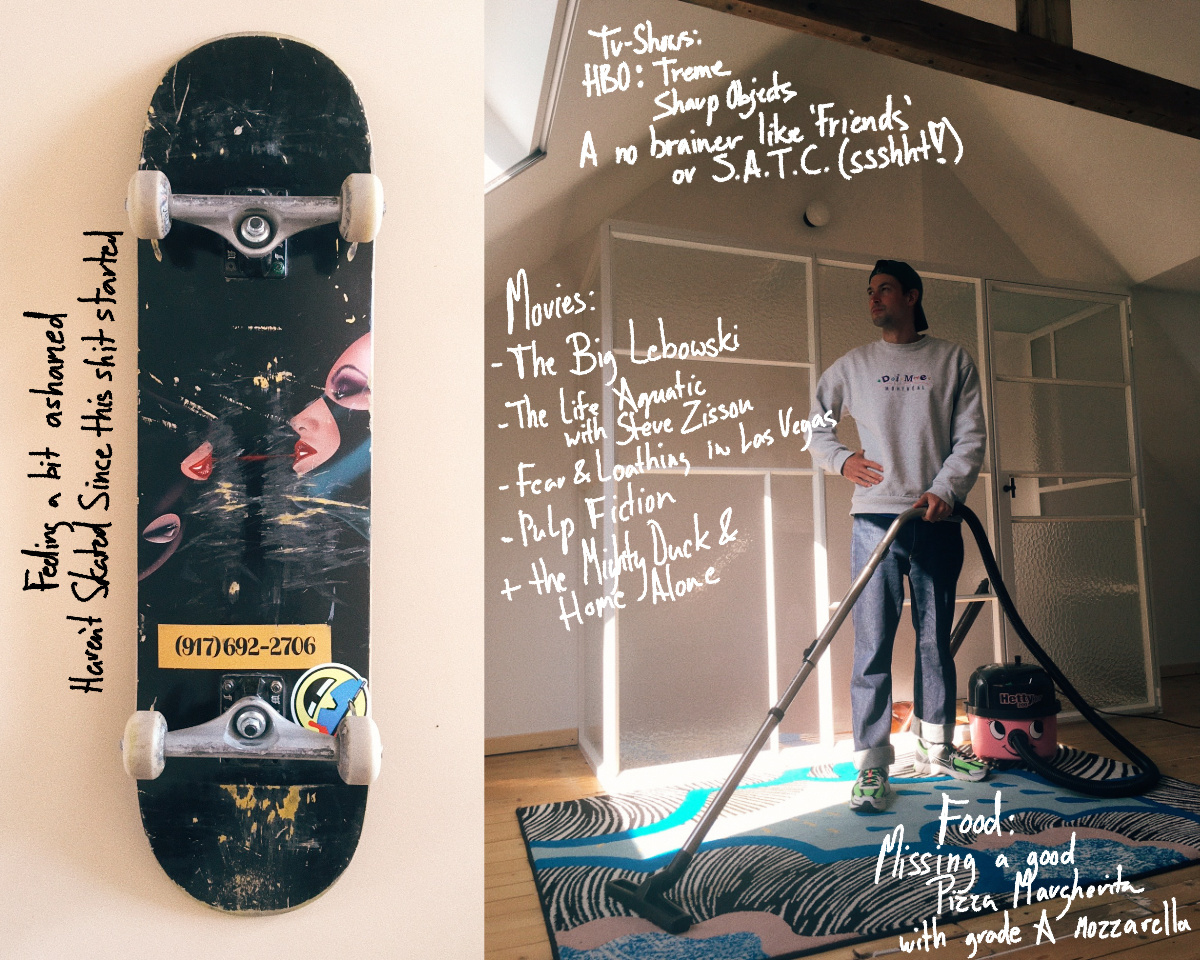 Tv-shows:
There is so much out there so I find it hard to keep up.
I prefer HBO series, I like Treme, Sharp Objects and the occasional no brainer like friends or SATC (but that's purely confidential).
Movies:
I would have to go with The Big Lebowski / The Life Aquatic With Steve Zissou / Fear and Loathing in Las vegas / Pulp fiction or to get sucked back into memory lane The mighty ducks or Home Alone on Xmas night.
Playlist:
My all time favourite album is Homework by Daft Punk that definitely changed my life and thoughts about music. Feeling the energy after hearing rolling & scratching made me want to jump off a roof. Otherwise I like to listen to some eclectic DJ sets that are mixed together nicely like Some Beats in Space or NTS stuff. I love to be surprised by some catchy thing I have never heard before. It doesn't really matter in which Genre.. If it is catchy, danceable with a nice rhythm I will probably enjoy it. My biggest guilty pleasure would be some dirty Detroit ghetto tech, ooops...can't live without it. If you want to torture me please switch on some 4 hour during EDM set by Dimitri Vegas or play some new skool rapper that has a name that starts with young that is addicted to auto tune.
Food:
I have been eating a lot healthier since the beginning of March eating less meat, more fish, vegetables and other non processed things. The thing I miss the most is a good pizza Margherita with some grade A mozzarella di bufala. I do not like ordering out so I just wait until I can go and eat at Cuore Di Puglia again.
All time favorite sneaker:
In my collection that would be the Adidas Micropacer feels funny to say because it's not so popular but I just like how shiny it is and it has a step counter, come on! Asides from that I really liked the Strangelove dunk, it is super fluffy and just a bit different. The Air Max 90 BW classic OG with that nice gabber vibe is on my wishlist at the moment.
Favorite item from the store:
Carhartt Classic Vest it's just an essential that finishes your look no matter what season. It's like a purse for men. I think it's status only increased since the Phelper's passing.